Why Choose Us
1. Bare Care is one of few hair removal salons in Auckland who is using authentic sugaring technique for brazilian waxing.
2. Brazilian waxing with sugaring makes your epilation experience less painful because sugar wax doesn't adhere to the skin. We are honest with customers and never say that sugaring is completely pain-free, but it is significantly less painful, compared to other hair removal methods.
3. We use hands only to apply and remove sugar wax! No sticks, no strips, and no any other tools. The hand technique is allowing sugar paste to penetrate deeper and grab hairs firmly. Even when it comes to such part of body as lane between buttocks original sugaring removes all hairs from roots easily. As the result, the regrowing hairs will be much thinner and softer than usual and toilet paper will not cause discomfort even weeks after epilation. If you know what I mean :). Skin will stay smooth and hair-free for 3-4 weeks after sugaring session.
4. Original sugaring wax always dispatches on the direction of hair growth. It allows removing hairs from the roots, which means less broken hairs and less ingrown hairs on a bikini zone.
5. Sugar wax doesn't leave sticky or fatty traces which could make underwear dirty. Nothing will bother you the right after the procedure, you will feel clean and fresh the right after.
6. We are so sure you will be happy with our service so we can guarantee your satisfaction with a 100% money back guarantee for 3 weeks for any hair removal services including brazilian waxing you are taking with Bare Care.
Questions and Answers
What is sugaring? Is it better for brazilian waxing?
Sugaring is a hair removal method, which uses wax made from sugar as an alternative to traditional hot wax. Because of sugar wax doesn't stick to the skin, it works the best for brazilian waxing, bikini or underarms. There are
many advantages of doing brazilian waxing with sugar wax
, but the main reason what makes sugaring better then other hair removal methods is that it is less painful and gives a better lasting result. For the known reason I can't show how does sugaring work for brazilian :) but here is the video below, which will give you some idea about how does sugaring look like:
How does original sugaring look like:
How to prepare for first-ever brazilian waxing?
Just relax and sleep well the night before the procedure. Don't terrify yourself, it isn't that scary. We apply the anti-shock technique, which helps to reduce sensitivity. We also very gentle with our customers and work with no rush and ensure the procedure goes as comfortable for you as possible.
Is it safe to do brazilian sugar waxing if I'm pregnant?
In most cases - yes, it is safe to do brazilian or bikini waxing during the pregnancy, but I would recommend asking your doctor or midwife. If you are about to give birth, then I would recommend making an appoint in 1 week before the baby should come.
For how long will it last?
After sugaring, your skin will stay absolutely bare for at least 3 weeks. But with each next hair removal session, the hair will be getting lighter and thinner and they will not bother you as they getting less noticeable.
Does sugaring reduce the overall amount of hairs on the bikini zone?
You should see the difference after 2 or 3 sugaring session. It is not laser or IPL, but some customers notice a similar effect - reducing the significant amount of hairs. The result may vary from person to person and hormonal state.
What is the recommended time between hair removal sessions for brazilian and bikini zone?
The time between session may vary, but usually, it is between 5 to 6 weeks. As soon as hairs reach approximately 5mm above the surface, that will indicate that time came. But don't grow hairs too long and don't sugaring too often. The right time between sessions gives a better experience during the hair removal sessions and the result lasts longer as all hairs are over the skin surface.
What is the minimal length of hair for brazilian waxing?
I would recommend having 6-7mm long for the first brazilian waxing or in a case if the last hair removal session was more than 6 weeks ago. If you do sugaring on regular bases, then the length of hairs can be 5mm or even shorter, depending on the strength of hairs.
Is sugaring safe for skin?
Yes, it is. Sugar wax is made from sugar and it doesn't cause allergy. The approximate working temperature of sugar wax is 32-38C degree. It makes hair removal procedure even more comfortable and eliminates risks of skin burns.
How to care body after brazilian waxing?
The long story short - keep it clean, loose and moisturized. For more aftercare recommendations please read this article
Brazilian Waxing, Bikini, Bikini Lane. What is the difference?
Bikini Lane
Bikini line waxing includes the area along the front line of panties. It is the basic bikini waxing which helps you to look well on the beach and to prevent hairs from coming out of bikini zone.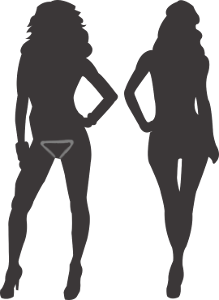 Bikini Extended
Extended bikini waxing includes extended hair removal from bikini line down to the labia, but doesn't include hair removal on labia itself. You will get the top triangle hair free. It doesn't include the line along to backside.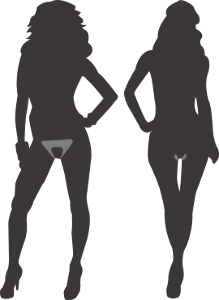 Brazilian Waxing
Brazilian waxing or brazilian bikini includes hair removal all under panties from front to back, including lane between buttocks.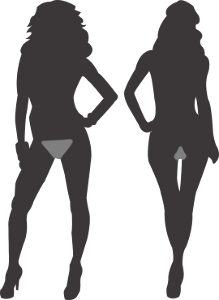 What other people say about Brazilian Waxing.
The best Brazilian waxing experience I've ever had. Sugar waxing is less painful with less regrowth and I'll continue to...

Posted by Hayley Bunker on Sunday, 6 May 2018
Best sugar waxing experience! Every time I come here I'm never left disappointed. I'm so happy to have found a place that I fully trust � I recommend this place to everyone�

Posted by Elnaz Gor on Thursday, 3 May 2018
Previous
Next