Why Brazilian Wax with Sugaring?
Sugaring is a safe and gentle hair removal method. Sugar wax doesn't cause allergy because it is made just from sugar. Unlike hot waxing, sugaring paste is more elastic, and it requires just lukewarm heating which eliminates chances to get burns.
Original sugaring removes hairs without using waxing bandages. Sugaring is a great hair removal tool for sensitive skin because it doesn't adhere to the skin and doesn't cause unnecessary pain on dispatch. The last fact makes sugaring an absolute winner when you need a bare or brazilian waxing. It removes hairs even from deep bikini and provides a longer hair-free result by removing hairs from roots.
Sugaring is a really good way to remove hairs on a bikini, but bear in mind that experience matters, so trust sensitive zones to experienced specialists only.
Why Choose Us
1. Bare Care is one of few hair removal salons in Auckland who is using authentic sugaring technique for brazilian waxing.
2. Brazilian waxing with sugaring makes your epilation experience less painful because sugar wax doesn't adhere to the skin. We are honest with customers and never say that sugaring is completely pain-free, but it is significantly less painful, compared to other hair removal methods.
3. We use hands only to apply and remove sugar wax! No sticks, no strips, and no any other tools. The hand technique is allowing sugar paste to penetrate deeper and grab hairs firmly. Even when it comes to such part of body as lane between buttocks original sugaring removes all hairs from roots easily. As the result, the regrowing hairs will be much thinner and softer than usual and toilet paper will not cause discomfort even weeks after epilation. If you know what I mean :). Skin will stay smooth and hair-free for 3-4 weeks after sugaring session.
4. Original sugaring wax always dispatches on the direction of hair growth. It allows removing hairs from the roots, which means less broken hairs and less ingrown hairs on a bikini zone.
5. Sugar wax doesn't leave sticky or fatty traces which could make underwear dirty. Nothing will bother you the right after the procedure, you will feel clean and fresh the right after.
6. We are so sure you will be happy with our service so we can guarantee your satisfaction with a 100% money back guarantee for 3 weeks for any hair removal services including brazilian waxing you are taking with Bare Care.
Questions and Answers
How long does a brazilian wax last?
If you do brazilian wax using true sugaring, then it should last at least for 3 weeks minimum. Sugaring slows down hairs growth, makes them softer and brighter, and reduces the overall amount of hairs. It helps to increase the time between brazilian sessions to 5-6 weeks or even more.
How long should hair be for brazilian wax?
5-6mm is the desired hair length for your first-ever brazilian waxing with sugaring or if you are after shaving. If you do hair removal regularly, then the length can be shorter. Please bear in mind, that minimal length matters, it's OK if your hairs longer. We always can trim it to the desired length.
Is Brazilian waxing painful?
Please don't worry too much, there are plenty of rumors around brazilian wax. If you do brazilian with sugar paste and with an experienced specialist, then it is way less painful, then hot wax or DIY waxing for example. Sugaring doesn't hurt the skin on peel-off, because it sticks to hair, not to the skin. Moreover, brazilian waxing is not even the most sensitive procedure. Many people find armpits or chest (males) waxing more sensitive than a bikini.
How to exfoliate after brazilian wax?
Exfoliation has a highly important role in the waxing aftercare routine. I recommend doing exfoliation after a hot shower using fine exfoliation lotion or exfoliating gloves starting on the 3rd day after epilation. But don't push it too hard. Ground coffee is still our good exfoliation friend. If you don't have one, just ask your nearest coffee shop for spent ground coffee, usually, they share it with pleasure for free :)
How to prevent ingrown hairs after brazilian wax?
There are several reasons which may cause ingrown hairs, but the main one is the way hairs have been removed. Sugaring extracts hairs from roots in the natural way of hair growth, so it doesn't damage a hair follicle and hairs can regrow without problems. We've seen a lot of people who had serious issues with ingrown and got rid of the problem just by shifting to sugaring. Few simple rules and reasonable aftercare also helps to prevent ingrown hairs.
Can I work out after a brazilian wax?
No, please stay away from any physical activities, swimming, or sauna for the first 24 hours after the hair removal and there are no exceptions. Sweating may cause skin irritation and cause other issues.
Is it safe to do brazilian sugar waxing if I'm pregnant?
It's always good practice asking your doctor or midwife first, but in general, yes, it is safe doing brazilian wax with sugaring during pregnancy. If you would like to prepare for the labor then I usually recommend making an appointment 1-2 weeks before your due date.
Can guys get brazilian wax?
Sure! Bare Care is place where man can receive waxing services too. We created dedicated page for mens brazilian and male waxing services.
Can you brazilian wax yourself?
I definitely wouldn't recommend experimenting with brazilian waxing. You need to be very flexible to remove hairs from a deep bikini :) Also, it's easy to damage the skin during the dispatch or brake hairs on deep bikini what may cause annoying skin irritation and problems with ingrown hairs. But, if you want to start doing sugaring or waxing at home, then I would recommend gaining by practicing on your legs and arms first.
Does sugaring remove hairs permanently?
In my practice, I have never seen a real permanent hair removal solution and sugaring is not an exception. If you do sugaring regularly at least once a 2 month, then you may have a semi-permanent effect. Sugaring removes hairs from roots and it helps to reduce the overall amount of hairs and also makes hair follicle weaker, which slows down the hair's growth and makes them thinner and less noticeable. You also may want to know that hairs grow unevenly: while some hairs are growing, some hair follicles are "sleeping" and may start to grow a few weeks or months later.
What's the difference between bikini and brazilian wax?
There are different ways of bikini and brazilian waxing: Bikini Lane, Extended or Deep Bikini, Brazilian or Bare Waxing
Bikini Lane
Bikini line waxing includes the area along the front line of panties. It is the basic bikini waxing which helps you to look well on the beach and to prevent hairs from coming out of bikini zone.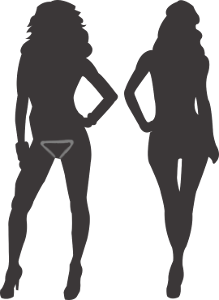 Bikini Extended
Extended bikini waxing includes extended hair removal from bikini line down to the labia, but doesn't include hair removal on labia itself. You will get the top triangle hair free. It doesn't include the line along to backside.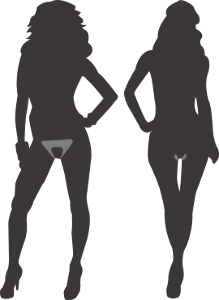 Brazilian Waxing
Brazilian waxing includes hair removal all under panties from front to back, including lane between buttocks.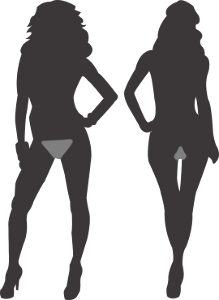 What other people say about Brazilian Waxing.