Men's sugaring waxing
in Auckland
Male SUGAR Waxing
Auckland
| | |
| --- | --- |
| Male brazilian | $105 |
| Buttocks | $55 |
| Buttocks (+inside) | $65 |
| Underarms | $40 |
| Upper arms | $35 |
| Full arms | $80 |
| Shoulders | $35 |
| Half back | $60 |
| Full back | $85 |
| Chest | $60 |
| Stomach | $45 |
| Half legs | $65 |
| Full legs | $110 |
| Eyebrows | $40 |
| Ears | $25 |
| Nose | $25 |

ENJOY IT OR GET MONEY BACK!!
With sugaring, you will enjoy the result and get 3-4 WEEKS of hair free skin and you will experience less painful procedure compare to other hair removal methods.
In another case, you get 100% money back.

For me, it is highly important to provide the best customers experience possible, that is why I give 3 weeks 100% money back guarantee on any provided services.

Read customer's feedbacks

What is it and how does sugaring work: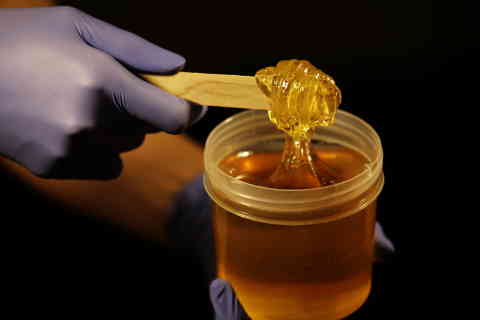 Sugaring is a method of hair removal which is quite common in Europe and US. And it is just about to get popular in New Zealand and Auckland.

But you may wonder what makes sugar waxing so special?
So, first of all, the sugar wax is made from Sugar which sounds unusual already, isn't it? Moreover, at Bare Care, we use our own recipe of sugar wax and we may guarantee it is 100% natural and has no side effects. Sugaring has nothing in common with HOT WAX or with any another epilation method you may already be tried. Sugar waxing has many benefits and here are few of them:

1. Sugaring is 100% safe for skin. Sugar wax grabs the hairs only. It doesn't stick to the skin and as the result, it is less painful and doesn't cause any irritation.
2. We don't use a HOT apply method. The sugar wax applies to approximate body temperature what makes sugaring safe to use even for facial hair removal including eyebrows, ears, and nose.
3. Cleaner result as sugar wax removes on the direction of growth and doesn't cause haircuts or follicle damage.

Ok, sugaring looks cool, but why should you choose us?
Well, we have at least 3 reasons why you may want to try sugar waxing at Bare Care:
First, you may not find another male sugaring waxing in Auckland, which provides male hair removal services with the same level of care with a reasoble price..
Second, we provide the full body sugar waxing service including male Brazilian.
Third, we so sure you will enjoy our work and stay happy with the lasting result after sugaring, that we provide 100% money back guarantee for 3 weeks.

Read more why sugaring may work better than traditional waxing
Questions & Answers
Do you really do male sugaring waxing?
Yes, we do. It was a long way, but we did it, and now we happy to present men's hair removal services. Men's body and hair are not the same as woman's, so it took time to adjust sugaring technique in order to provide services according to our standards. Now you can do male sugaring waxing in Auckland.
Does sugaring wax work well for facial hair removal?
Absolutely! Sugaring works great on such sensitive skin as a face. We can do hair removal as well as shaping.
Do you do Hot Waxing?
No, we don't. Sugar waxing has much more advantages over traditional waxing or hot waxing. We pretty sure, if you try sugaring at least once, you never turn back to the other methods.

Learn more about waxing vs sugaring here
What is the optimal length of hair for male waxing?
The recommended length of the hair is 5-7mm for the first sugaring waxing. It is ok if you have longer, but make sure you have at least 5mm.
What is the optimal time between sessions?
Sugar waxing has the lasting result for 3-4 weeks. And there is one thing you would be happy to know about sugar waxing. Each new session makes hair thinner and softer, what makes each next sugaring sessions even more comfortable. It is important to have the right time between sessions to don't let the roots to sit stronger.

In my practice, I saw "the shortest lasting result" for 3 weeks, which still isn't so bad, isn't?
How often do you do shaving? ;)
Is sugaring painful?
Sugar waxing is much less painful compared to other waxing methods. The key secret is that sugar wax doesn't stick to the skin and as the result and doesn't cause the pain on dispatch. But bear in mind, that it is not completely pain-free, but we do all our best to provide as much comfortable service for you as possible.
Do you do male brazilian sugar waxing (male brazilian sugaring)?
Yes, we do male brazilian sugar waxing as well.
Where to do male sugar waxing in Auckland?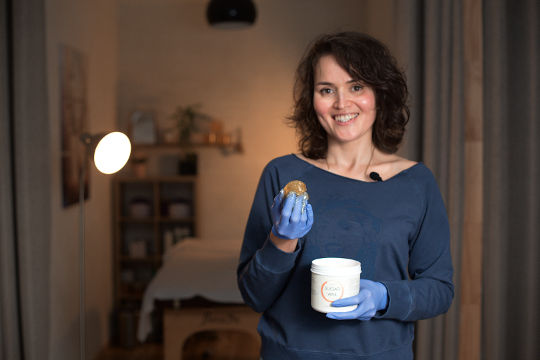 Hi, I'm Marina the founder of Bare Care.
I do sugaring for several years already and I would say that sugaring really great hair removal method. But at the same time, sugaring is just a good tool and the right hands. The main things which make Bare Care different are personal attitude and customer-oriented service.

There is no difference between male and female customers, and we do male waxing with the same level of care and respect to ensure you have the best customer experience with us.


Our team includes 3 experienced sugaring specialists. Our salon is located in such nice location as Birkenhead. (click here to get address and direction) which is just the first exit after the Bridge (appx. 10 minutes from the center of Auckland).

If you feel doubt, please don't feel free to find us on social networks and see what others tell about their sugar waxing experience. (read sugaring reviews on facebook and google reviews)

Best Regards,
Marina
Feedbacks and Reviews

Bare Care
53 Birkenhead Avenue
Birkenhead
,
Auckland
0626
Phone:021 203 2245
Price Range: 15-80 NZD

"Thanks Lena for excellent sugaring experience, as a first timer i was full of worry but Lena quickly put me at ease with her friendly but professional personality! Many thanks ?? and see you shortly !"