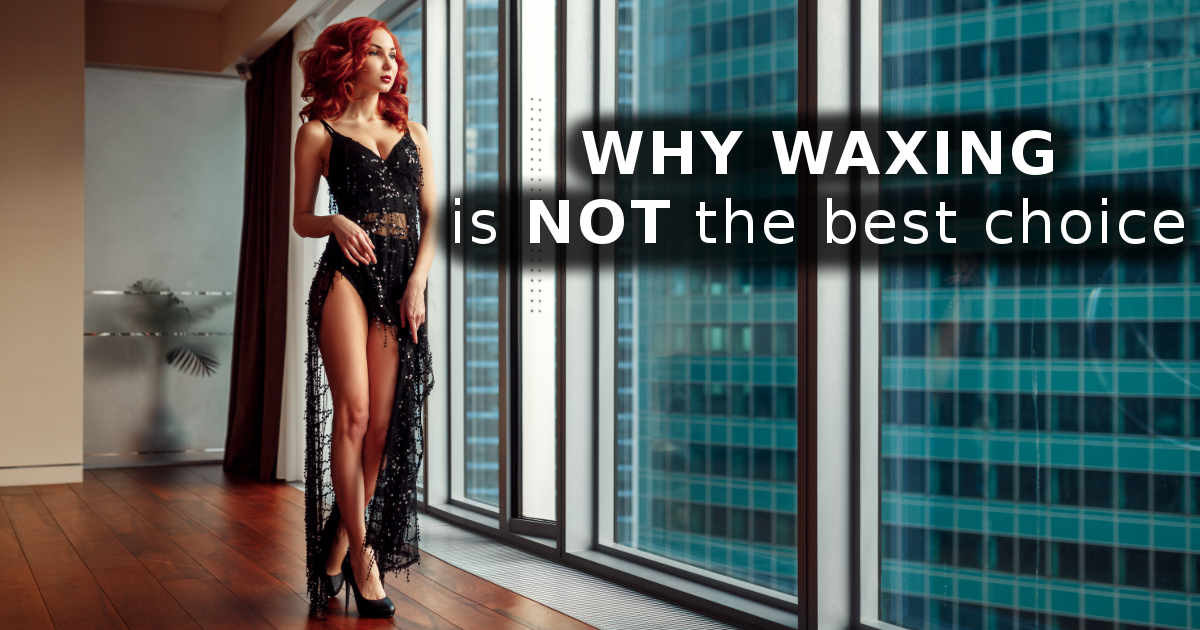 5 Reasons to choose SUGARING (sugar waxing) over traditional WAXING 
Not all waxing procedures are the same. The key differences between traditional waxing and sugaring are below: 
1. Sugaring (sugaring wax) removes hair on a direction of hair growth. 
Why is it so important?
Traditional waxing stick despatches opposite direction of hair growth, and as a result, it damages hair follicle, causes pain and quite often brakes hair rather than removes a root of a hair. But pain is not even the main issue. Which direction will hair grow next time if hair follicle (channel) has been damaged? That is why you may struggle with such problem as "ingrown hair". 
In opposite traditional waxing, Sugaring waxing extracts hair on a natural way of hair's growth, it does not damage follicle and removes entire hair. To understand the difference I suggest you check how it works right now while you are reading this article and make a short experiment:
Find an area on your body with unwanted hairs - like hands or legs.
Try to remove hair on in two different ways. I would recommend using tweezers. First, try to remove hair like it happens with classic waxing - grab a hair and pull it the opposite direction of growth. Repeat this step 3-5 times. Now, do the same, in this case, pull a hair along a direction of growth, try to don't bend the hair to do not decrease its durability. Try to repeat this operation several times. 
Done? Now count a number of broken and fully extracted hairs and you see differences between waxing and sugaring. Sugaring removes hair on a direction of the growth and extracts a full hair. As a result, you get smooth skin for much longer.
2. Sugaring is less painful
Less pain with sugaring compare to waxing, really? How can it be different? 
What is the cause of pain of waxing procedure? Well, there are two sources of pain - skin and hair follicle. 
Traditional wax sticks to hair as well as to a skin. Dispatching irritates both skin and hair follicles as well. Maybe you already had experience when waxing damaged your skin, especially when you tried to do waxing at home on your own. Sugaring never damages a skin, as it sticks to a hair only, not to skin.
The direction of despatch matter!
Traditional waxing sticks not to hair only, but also it sticks to your skin. Traditional waxing dispatches on opposite direction of hair growth and it causes an extra source of pain as it irritates or even damages follicle. As read above, Sugaring extracts hair on a natural way of hair growth, it doesn't irritate skin and it doesn't damage follicle and as a result, it produces less pain. Moreover, next the growing hair after extraction is getting thinner and as the hair doesn't have enough time to strengthen, next extraction goes even easier and causes even less pain. 

3. With Sugaring, you will forget about burns.
Waxing may cause burns, Sugaring does not
There is no need to describe much difference between waxing and sugaring in terms of wax temperature. Hot method of applying with traditional waxing may cause burns. Sugaring wax has an approximate temperature of your body. You will never get burnt again. 
4. Clean and soft skin for 3-4 weeks.
Sugaring wax covers the whole hair, which increases chances to extract it entirely, rather than cutting it. Embraced hair despatches along hair growth direction, which eliminates chances breaking hair during extraction, and as a result, the hair gets entirely extracted. It usually takes 3-4 weeks for a hair to form a new follicle first and then to start growing again. 
5. Enjoy or get money back in 3 weeks!
It is a great chance for you to try sugaring, as I give 100% money back guarantee. You may change your mind in 3 weeks and get money back.
Find out more information: here or book now